Popular backwater houseboat cruise at Alappuzha
Kerala houseboat is a modified Kettuvallam, the large boat of yester years.  Kettuvallams were used for the transportation of goods like rice and spices from Kollam, Kochi, and areas of Alappuzha to neighbouring towns. Here are some essential information and guides to make your visit to Alleppey Houseboat fun and hassle-free. Find detailed information on Houseboats, Cruise Type, rooms, food, FAQ, tourist map etc.
Day-1: Alleppey (Check into Houseboat at 11.30am)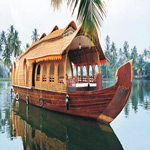 Check in at 11.30 morning at Alleppey, start cruising through the Punnamada Lake, venue of the famous Nehru Trophy Boat Race. Enter the enchanting waters of the Vembanad Lake; enjoy the panoramic views and the glimpses of the life along the banks. High Points of the cruise is the viewing of Kerala Race Boat…"The Snake Boat (110 Ft Long). Lunch in the House Boat. Visit Chavara Bhavan-the old wooden house where the blessed Kuriakore Elias Chavara was born. Anchor for night stay at Munnatummugham. Dinner & overnight stay in Houseboat.
Day-2: Alleppey (9am Checkout from Houseboat)
Next day morning after breakfast cruising through SNDP canal, Kuppappuram, Vilakkumaram thodu to reach jetty. Check out by 9 AM at Alleppey.
Houseboat Cruise Inclusion
Are all meals included in this Houseboat Package Itinerary ?
Houseboat trip offer an AP meal plan wherein all the three meals — breakfast, lunch and dinner are freshly prepared and served on board, which are included in the cost.
Travelers wishing to enjoy a specific cuisine, menus like pure vegetarian food, Jain food, North Indian cuisine or having dietary restrictions are advised to inform us during the time of booking. Guest can buy fresh fish like Tiger prawns, Pearl Spot Fish (called Karimeen in Malayalam), Crabs etc. directly from the fisherman and then the chef can cook it for them in the houseboat kitchen.
Is there any fixed departure time for cruise ?
Yes, The packages start at Day 1- 12 o'clock noon & end at Day 2 -9 am
Fun Things to do in a Houseboat
Fishing is something that everyone should enjoy and can be done on board.
TV and Sound system will be available which will keep you engaged with your family and friends.
Its really interesting to observe the life of the locals. Alleppey backwaters are home to isolated communities who have perfected the art of living in a watery environment. The markets come to them on boats, selling vegetables, grocery and fish to households on the banks of these canals.
Cook a dish together with your chef.
It will be really nice if you can get off the boat to a lovely resort cafe on the shore for a coffee or bytes.
After the houseboats are anchored in the evening, guests can step out on the shore to explore backwater villages, its including church, temple, and other rural attractions.
How safe are these houseboats?
The houseboats are completely safe for families, couples and group travellers. The houseboats crew are always available for the guests for any help. Guests can enjoy complete privacy and security during their stay. In the boat good quality furniture, clean and quality linen and toiletries, LED lamps, bio gas stove, fireproof materials in kitchen, first-aid kit, GPS, handrails in front and back of boats, crossbars on upper deck, smoke alarm in the engine room, and display of dos and don'ts are mandatory.
All our boats are Kerala Govt Approved.
Who all will be there in the Houseboat other than the guest?
There would be 03 crew members in the houseboat. The Captain, helper and a cook would accompany the guest.
Is Prior booking required?
It's recommended to advance booking for houseboats in Season time. Even though houseboats are found for spot booking in off season, high profile houseboats providers usually get booked and it's a good idea to book in advance.
Has Houseboat cruise at night been available?
No, Since the local fisherman put their fishing nets in the backwater lake, the Kerala Govt has banned moving all types of engine operated boats from 5.30 evening to 7.30am till the next day.During time boat  will anchor on the lake side.
Trending Houseboat Routes
1. Alleppey Round
★★★★★ (Highly Rated)
Alleppey round cruise through paddy fields, coconut lagoons and extensive network of narrow backwaters  is an excellent destination for experiencing village life. Intriguingly, farming is done below sea leave in this area.
2. Kumarakom Round
★★★★★ 
The village of Kumarakom is a cluster of little islands on the Vembanad Lake, and is part of the Kuttanad region. The bird sanctuary here, which is spread across 14 acres is a favorite haunt of migratory birds and an ornithologist's paradise.
3. Alleppey - Kumarakom
★★★★★ Check in at Alleppey Town & Checkout Kumarakom Village. Alleppey- Kumarakom cruise going through Vembanad Lake.